Steve (from near Perth), has a fibreglass pool and these are his recent thoughts about doing it yourself:
"Things I have learnt so far:
Pools are far larger when empty, and the job suddenly gets a whole lot bigger than you thought.
Siphoned emptied in 2 days with garden hose, no problems.
We are in a clay area and because it is so dry the walls did not need bracing
Fibreglass itches like a bastard, and it doesn't matter how many layers of protective clothing you wear.
Grease up with Barrier Cream before working then shower and grease up again after wait an hour and rinse again, not saying you don't itch, but it is better.
Brumby flap discs for angle grinder for not so harsh work and corners.
Zec semi flex disc for the angle grinder for taking off the flaking gel coat quickly, you have to use with a very light touch, but they last an amazing amount of time 2 discs the whole pool.
Both available at Bunning's here.
Hired a roller type floor sander for base as mine is very flat with 60 girt paper worked very well, used an old pillow case for the dust bag as the supplied paper ones didn't last 2 seconds."
You can see some of his pics here as well.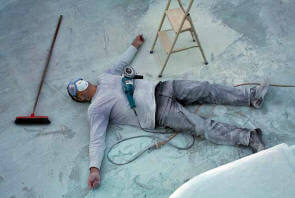 var _gaq = _gaq || [];
_gaq.push(['_setAccount', 'UA-1459402-2']);
_gaq.push(['_setDomainName', 'none']);
_gaq.push(['_setAllowLinker', true]);
_gaq.push(['_trackPageview']);
(function() {
var ga = document.createElement('script'); ga.type = 'text/javascript'; ga.async = true;
ga.src = ('https:' == document.location.protocol ? 'https://ssl' : 'http://www') + '.google-analytics.com/ga.js';
var s = document.getElementsByTagName('script')[0]; s.parentNode.insertBefore(ga, s);
})();